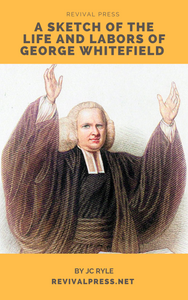 Revival Press
A SKETCH OF THE LIFE AND LABORS OF GEORGE WHITEFIELD BY J.C. RYLE (E-BOOK)
Regular price
$6.99
$0.00
Unit price
per
Tax included.
There are few men whose characters have suffered so much from ignorance and misrepresentation of the truth as Whitefield's.
That he was a famous Me(thodist, and ally of John Wesley, in the last century; that he was much run after by ignorant people, for his preaching; that many thought him an enthusiast and fanatic; all this is about as much as most Englishmen know.
But that he was one of the principal champions of evangelical religion in the eighteenth century in our own country; that he was one of the most powerful and effective preachers that ever lived; that he was a man of extraordinary singleness of eye, and devotedness to the interests of true religion; that he was a regularly ordained clergyman of the Church of England, and would always have worked in the Church, if the Church had not, most unwisely, shut him out; all these are things, of which few people seem aware. And yet, after calm examination of his life and writings, I am satisfied this is the true account that ought to be given of George Whitefield.
Get more books at RevivalPress.net
---
Share this Product
---